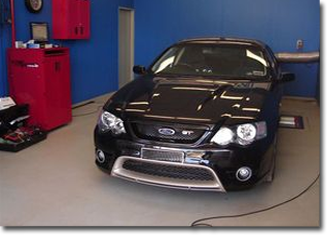 PURPOSE BUILT DYNO ROOM
Want to get the ultimate tune up or turn the wick up on your performance engine then park your car or 4WD on our dyno dynamic twin retarder chassis dyno, which can handle up to 2000hp and let us show you what we can do!
Having a high quality dyno equipment with the latest software lets us monitor a range of measurements coming from the engine under load conditions. This then enables us to carry out power graphing, power tuning, air/fuel ratio testing, boost level testing and much more for both petrol and diesel vehicles.
We also have many years of experience in tuning cabureted vehicles running Holley's , Weber's and Solex carburetors.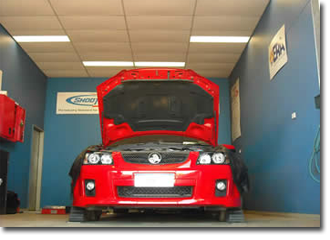 PERFORMANCE DYNO TUNES
Holden LS1 up to the latest models can be tuned for economy or performance by reprogramming the original ECU using VCM suite software.
Fords from AU on including Ranger and Territory can be flash tuned also depending on the customers individual requirements.
For older EFI vehicles in both petrol & diesel, a "piggy back" ECU such as the Haltech Interceptor can be fitted.
Because the interceptor is designed to work with your existing ECU, we are able to maximize power & economy whilst retaining factory levels of idle quality, cold start, etc.

DYNO ROOM SERVICES
» Power graphing
» Mafless tunes
» Air/fuel ratio testing
» Fault code diagnosis
» Carburetor tuning
» EFI diagnostics
» Power tuning
» Accredited shootout workshop
» Boost pressuring checking
» ECU direct remapping
» ECU controlled trans remapping
» Economy tuning